Video: Drive Through Cypress Creek Village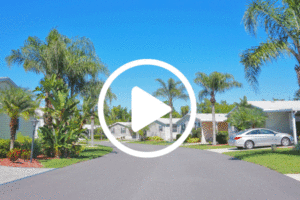 Welcome to Cypress Creek Village 55+ community in Winter Haven, FL where retirement dreams come true! Here, residents are greeted by endless sunshine, an active lifestyle, and a beautiful setting that is the perfect backdrop for your Florida retirement.
With a total of 405 lots spread across four phases, Cypress Creek Village is a thriving and close-knit community. As you cross the bridge over the creek, you are welcomed into the heart of the community - the clubhouse. This lively hub is designed to bring neighbors together and keep your days full of fun.
Imagine starting your day with a friendly game of shuffleboard or pickleball on one of the community courts. And for those seeking a more traditional workout, the fitness center has numerous pieces of equipment to help you stay fit and healthy.
After an active morning, head to the great room to unwind and socialize with your newfound friends. This is also the perfect spot to enjoy a cup of coffee, swap stories, or engage in a lively game of cards. If you are in the mood for some entertainment, why not catch a movie in the cinema room? When the sun is shining, take a dip in the refreshing swimming pool or simply lounge by the water's edge with a good book. The lush green surroundings and the beauty of Cypress Creek Village perfectly complement the tranquil atmosphere, making it an idyllic spot to relax and recharge.
Phase 4 is the newest addition to this thriving community, and it's no wonder homebuyers are flocking to claim their piece of paradise here. The meticulously designed homes offer both comfort and affordability, allowing residents to fully enjoy their retirement in style.
It is clear to see that our residents take pride in their homes. The houses are meticulously maintained, and the yards are beautifully manicured. But what truly sets Cypress Creek Village apart is the strong sense of community among its residents. Neighbors quickly become friends, and friends become family. The warmth and kindness of the people ensure that no one feels disconnected. Living here means being surrounded by a supportive and caring community that enriches your life in so many ways.
With beautiful surroundings, numerous amenities, and a warm and welcoming atmosphere, it's no wonder Cypress Creek Village feels like home to all who live here; it is not just a place to retire, but a place to truly live and thrive.
If you are thinking of joining this vibrant community, you better act fast! With only two new homes remaining, the opportunity to find your perfect brand-new home is slipping away: view our homes for sale here: