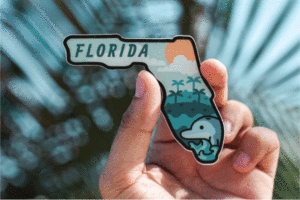 When we think of Florida, we automatically picture theme parks and stunning coastal beaches. However, the state's unique shape and diverse landscapes offer ample opportunities for unforgettable day trips. From guided tours to outdoor adventures and educational explorations, Florida has something to offer for every traveler. So, why not hop in the car and embark on one of these exciting Florida day trips?
For those seeking a bit of adventure on the water, a guided dolphin cruise in Clearwater is an absolute must. Little Toot Dolphin Adventure, offers a 1.5-hour tour on the Gulf of Mexico. As you relax aboard the boat, you'll have the chance to spot playful dolphins in their natural habitat while enjoying a beverage of your choosing. This trip is perfect for anyone looking for a leisurely day out at sea.
Would you like to be one with nature? A visit to Crystal River National Wildlife Refuge should be on your itinerary. Located in the heart of the state, this refuge is home to endangered animals, including Florida's beloved manatee. As you explore the crystal-clear waters, you'll have the opportunity to swim and float alongside these gentle giants, creating memories that will last a lifetime.
Looking for education with your exploration? The Kennedy Space Center allows visitors to delve into the fascinating world of space exploration. From marveling at impressive rockets to experiencing a simulated space shuttle launch, this complex provides an immersive and educational experience for visitors of all ages. Similarly, The John and Mable Ringling Museum of Art and the Dali Museum stand as cultural gems, showcasing masterpieces from renowned artists. A visit to Edison and Ford's Winter Estates allows you to step back in time and explore the homes and gardens of these great inventors.
If you're a fan of the paranormal, Florida has its fair share of spooky destinations. The St. Augustine Lighthouse is renowned for its eerie history and is considered one of the state's most haunted sites. Visitors can climb to the top of the lighthouse tower, all the while keeping an eye out for any supernatural activity. For a truly bone-chilling experience, St. Augustine's Old Jail is known to be home to paranormal phenomena. Venture inside, if you dare, to learn about the dark past of this former prison. Disney lovers need not miss out, as even Walt Disney World's Haunted Mansion offers a ghostly tour. While the spirits you encounter may be fictional, the journey through this iconic attraction is sure to send shivers down your spine.
The Sunshine State offers a wide array of day trip options for both locals and tourists. Whether you're searching for guided tours, relaxation, exhilaration, or a touch of the supernatural, Florida's landscapes and attractions will surely leave you with memories to cherish for a lifetime. So, why not break away from your routine and embark on a Florida day trip?